Beautiful & Professional Design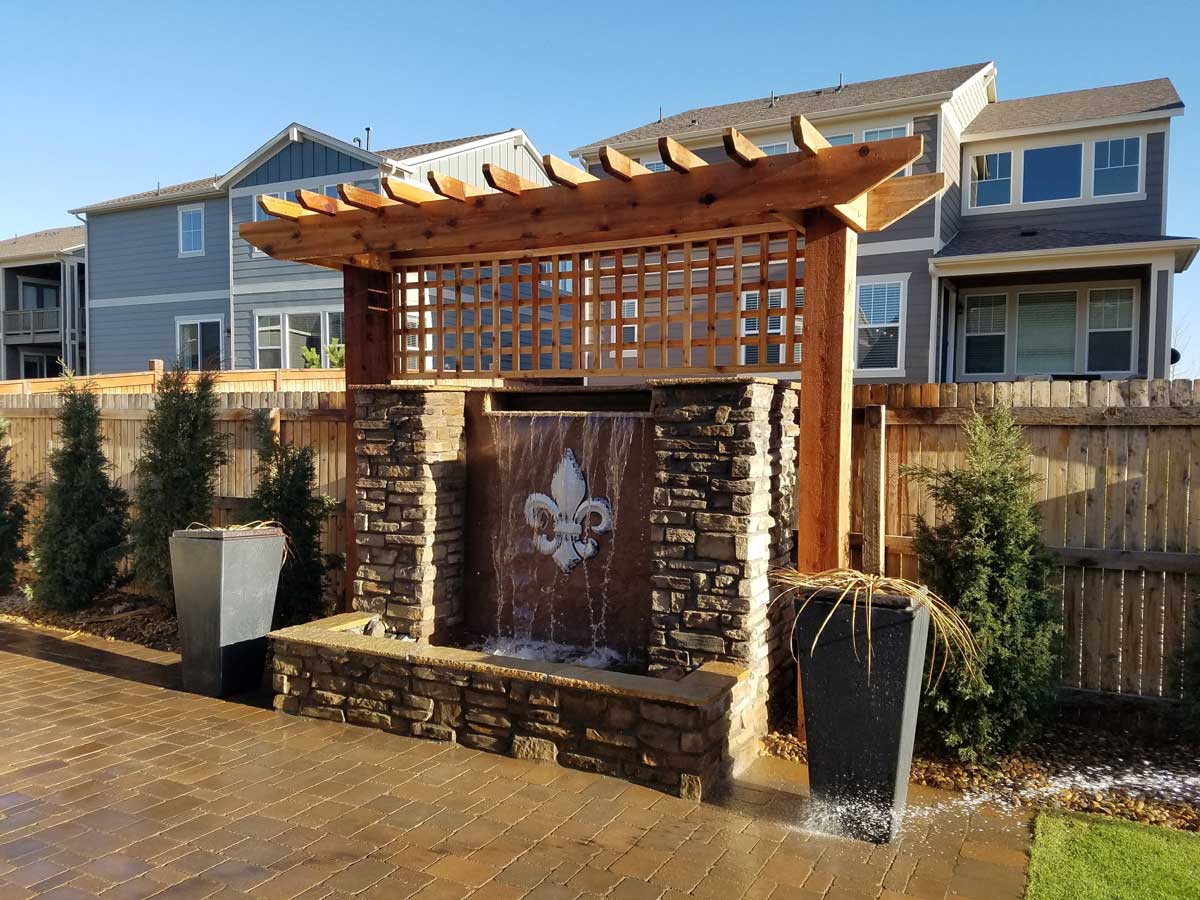 Outdoor fireplaces CMU Block, for facing or veneer of outdoor fireplaces the most common materials are brick, manmade stone, natural stone, stucco, concrete and flagstone. All these materials are durable outdoors and will hold up to the heat the fire produces.  
CMU Block, for facing or veneer of outdoor firepits the most common materials are brick, manmade stone, natural stone, stucco, concrete and flagstone. All these materials are durable outdoors and will hold up to the heat the fire produces.
Sonara Buff Flagstone Firepit with Colorado Red Flagstone caps
Service: Pergola, Landscape, Firepit & Outdoor Kitchen
Denver CO.
Flagstone patios also have a very natural, organic look due to their shape and earthy shades of browns, reds, grays, and blues. The most common types of flagstone used for paving patios are sandstone, slate, and limestone. Flagstone provides a durable and naturally slip-resistant patio surface that will last for years. Most common are.
Red Flagstone
Buff Flagstone
Pennsylvania Flagstone
CMU Block, for facing outdoor kitchen the most common materials are brick, manmade stone, natural stone, stucco, and concrete. All these materials are durable outdoors and will hold up to the heat the fire produces.


Wood Wood is perhaps the most customizable and strongest material for a pergola. Wood can be painted, stained, or allowed to weather naturally. This natural look blends perfectly with the very popular rustic landscape design style that is very common. Pergolas made of wood are strong enough to attach to homes; they also blend in better. There are different types of wood material for your pergola. Pressure-Treated Wood, Rough Cedar, Red Wood
Cedar and Redwood are the two most used woods for pergolas.
Metal materials If you are looking for a more modern and sleek approach to the pergola, investing in a metal one provides plenty of flexibility when it comes to choosing different styles. While an array of colors and variation of designs – ranging from attached to free standing – make metal a very versatile material option, it is its durability and weather resistance that make it a much sought-after pergola material. In addition to their longevity, metal pergolas are arguably some of the easier options to install in your backyard because they are often available in panelized kits that do not require any cutting. You metal options include:
Steel
Steel pergolas are some of the sturdiest ones on the market. If you want to add more shade to your backyard, you are in luck. It is incredibly easy to attach sheets and curtains to steel-framed pergolas, and their resilient structure helps to ensure any linen materials you put up stay in place.
Materials Wood
gives a natural appearance. Can be used to create curves. Versatile – many design & style options. can be finished with stain or paint. Durability depends on type of post, type of lumber, waterproofing etc.
Vinyl Reliable products known to last for 10+ years without fading. Color is limited to white, light tan and dark tan. Low grade vinyl is vulnerable to degradation from exposure to high UV light and extreme temperatures.
Wrought Iron
Today mainly made of modern steel which is better than cast and is much more flexible. Less expensive than traditional wrought iron. Iron is the traditional product due to its strength, however rusts quickly if scratched.
Aluminum
Strong, Long lasting, Visually diverse & widely available. Does not rust but is not as strong as iron. Some aluminum fencing is more durable than steel, but not as stiff.
Chain Link
Strong, Long Lasting, Great for sports courts. Not the most attractive looking fencing type. Mesh or slats must be added for privacy. A thicker galvanization means a stronger fence overall which is more resistant to rust and corrosion.
Waterproof masonry, Waterproof masonry, such as concrete, is ideal for water features as it seal in the water, whether it is a raised or sunken pool. If you are choosing a material with joints, such a brick or rocks, they will leak so you should add a specialized render to the interior of the pond. You can choose colored or clad with tiles or a waterproof membrane such as PVC. Do not add my decoration, made of material, which can puncture or damage the waterproof liner. In addition, the joints where pipes enter the pool should be watertight. You can line the edge of a pond liner with flat stones will protect it, but it needs to be smooth-edged to prevent punctures.
Natural stone has been used for hundreds of years to build water features, especially fountains. And when it comes to natural look, nothing beats it. You can use sandstone or marble, which are available in variety of colors and patterns.
Granite is a very strong and natural material.
Concrete is a mix of ingredients including cement, water, aggregates, paste, and additives. It may also include mineral colors to make it darker, lighter, or give it a color.
Color Concrete
Standard grey concrete/Broom finish
Sand Finish Concrete
Stamped Concrete
Pressure-Treated Wood It is chemically treated to resist rot, mold, and insects. However, it usually made from inferior grades of pine or fir that tend to crack and warp over time, making maintenance an ongoing chore.
Cedar For aficionados of natural wood, cedar is a natural choice. Widely available, lightweight, and strong, cedar decking makes for a beautiful deck. The wood has tannins and naturally occurring oils that are resistant to rot and insects but protecting the wood with stain and sealer helps keep the wood free of cracks and splinters. Without protection, both cedar and redwood will eventually turn a soft gray color. 
Redwood Similar in characteristics to cedar, redwood is the classic choice for natural wood decking material. It is pricier than cedar, with select, clear grades of redwood commanding top dollar.
Composites Composite decking boards and related synthetics are the fastest-growing segment of the decking board industry. They are made from wood fibers and recycled plastics, they will not warp or splinter, and they are impervious to insects and rot. Composite and other synthetic decking has the advantage of being virtually maintenance-free. 
Aluminum Prefinished aluminum decking is strong, weatherproof, and (of course) rot, rust, and insect-proof. The decking "boards" are lightweight and easy to cut with special saw blades. The extruded aluminum planks are finished with a thick, slip-resistant coating that comes in many colors and is maintenance-free. Special fasteners are required to secure the decking to your deck's substructure. 
Blocks, Timbers, Rock, Concrete,for facing retaining walls, the most common materials are brick, manmade stone, natural stone, stucco, and concrete.
Description of work: Pavers and Railing
Work Completed Date:12/13/2020
Hire Again:Yes
Location: Denver, CO 80227

"They did a professional job and it looks great! I would not hesitate to hire them again."

Description of work: Paver Extension
Work Completed Date: 12/13/2020
Hire Again: Yes
Location: Denver, CO 80219

Excellent They did a good job and followed up to make sure the work completed was to our satisfaction cleaned uo after them selfs I highly recommend them
Description of work: Flagstone Steppers
Work Completed Date: 10/4/2020
Hire Again: Yes
Location: Denver, CO 80227

"Great company, professional staff, wonderful and caring crew!"
Description of work: Artificial Turf, Pavers, Retaining Wall
Work Completed Date: 8/30/2020
Hire Again: Yes
Location: Denver, CO 80017

"Tierra Construction was fantastic to work with. Luis and Nancy are extremely professional and punctual with communication. I chose them out of 15+ contractors because of how attentive to detail and responsive they were. Their workers were professional and timely and often reached out to me during the work with progress updates and to make sure I liked the in-progress product. Luis ensured the grading was proper so that we won't have any drainage issues. I'd recommend them to anybody...10/10!"
Description of work: New fence, Landscape Including Trees, Plants, and Irrigation Modifications
Work Completed Date: 7/31/2020
Hire Again: Yes
Location: Denver, CO 80211

Tierra did a great job with my project. They were able to start a day earlier than expected. They left the area clean each day and followed up on every item that we talked about. The fence that they built looks great and is sturdy. I did not have a landscape plan, but an idea of what I wanted. They worked with me through the project to ensure there were enough plants and elements to make it look great. They were flexible and communicated their own ideas and recommendations which was appreciated. Be patient with them, as they are busy. It did take me a few phone calls and I had to wait a few days beyond what was told for the contract to come in. But it did come in on a Saturday and they started a day early! The entire team was professional, friendly, and worked hard to get my project done. They take pride in their work and it shows.
Description of work: They did Patio Extension and they Paved my Patio.
Work Completed Date: 7/28/2020
Hire Again: Yes
Location: Denver, CO

"The service was very good. They were very respectful, very diligent, they worked very hard, they did a very good job and they have a fair price."
Description of work: They did some Landscaping at a Rental Property.
Work Completed Date: 3/12/2019
Hire Again: Yes
Location: Denver, CO

"They were prompt, they were fair on price, responded when I send them email. They did great."